About Us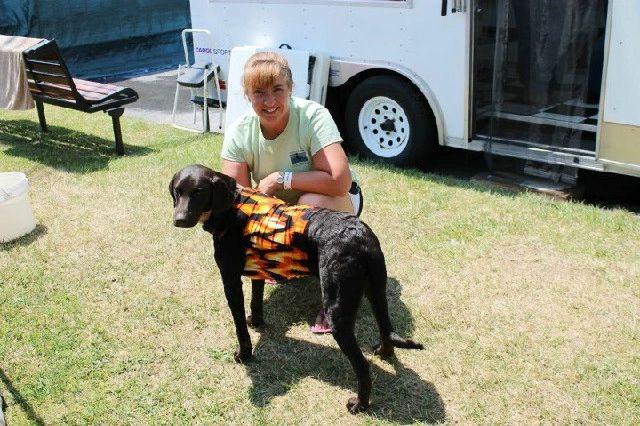 Kim Vaillancourt
I've always loved to sew since High School. (I harbor a secret desire to be on the show "PROJECT RUNWAY").
Fast forward many years, and we get involved in dockdogs. Storm, our CRAZY puppy, started his Dockdogs career at the ripe age of 6 months. I saw several "sponsored" dogs with vests, and thought it would be adorable to put one on our baby.
After several attempts, I managed to make one to fit properly, and I was right. He was ADORABLE in it! People started asking me where I got the suit, and my response was, "I made it".
"Can you make one for my dog?"
"SURE!"
I'm absolutely amazed that word-of-mouth has travelled so fast, and I'm HUMBLED by the kind words of all of our customers. Super Fly Suits has customers in at least half of the country, and Canada, and I just LOVE this addition to the Dock Diving community. There's nothing better than getting to play with your dog, except that now I feel like I have HUNDEREDS of dogs, (well, parts of them) when I'm looking through pictures and see them jumping in their Super Fly Suits.
We're also proud to say that we provide vests for several DockDogs World Record holders.